Do you remember the episode when Homer Simpson first read Advanced Marketing, then Beginning Marketing before ending with The New American Dictionary when he was searching for ideas about how he could increase revenue for Barney's Bowlarama?
Like him, the expectations of the typical business owner in Serbia just beginning their journey with digital advertising are always too high. They imagine that the results they get from advertising will exceed the investment they put into it. But, as with other forms of marketing and communication, success is not just determined by money spent, but also by its correct use. Or even more important is that if you start developing a digital marketing strategy without clearly and really defined objectives, you will be disappointed in the results you get.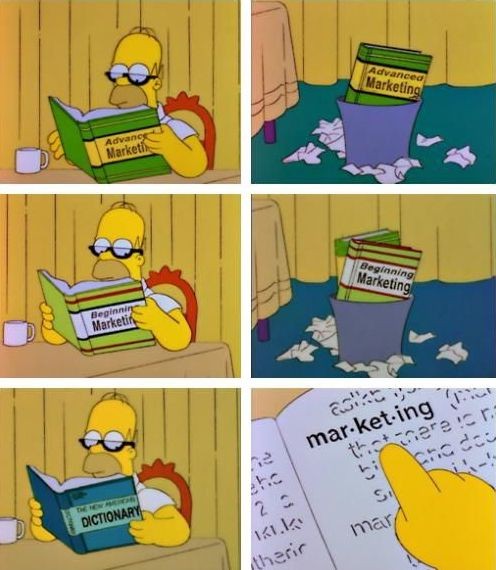 Most of the time, people do click on BOOST Post because it's so simple to get started by selecting some basic goals like location and demographics and clicking on the boost post button that I like to refer to it as the "Homer Simpson" button. (At his factory work, he only has one button to push each day to complete his duties.)
Boosting a Facebook post is relatively easy and a no-brainer – you only need to have a Business Page on Facebook, Meta Business Suits access, and a native post on the Page. You'll also need an ad account since boosted posts require a budget. In a sense, by simply promoting posts, you're not optimizing and leveraging the full power of Facebook's advertising system and eventually, you will lose money.
Of course, it is possible, but that is reserved after a certain period your product is presented online and from my experience, that's the only right strategy for almost every kind of business. I think this advertising strategy is necessary for Brand presence and recognition.
Although the average advertiser is in a hurry to sell without a strategic approach to digital advertising, just as in traditional advertising, it is difficult to achieve long-term results.
There is a fundamental phase in your strategy you need to complete in order to establish your product or service as a true brand before you can begin with "advanced marketing." You must set up a top-notch digital marketing strategy with a strong foundation in social media and the digital marketing platform.
The decreased organic reach on Facebook and Instagram has been evident for a while.
One strategy to combat this decreased organic reach is to pay to advertise.
In 2012, Facebook's Ad Manager was still in its early stages, and most business owners found it complicated to use. Therefore, Facebook introduced an easier way to sponsor your content and reach more people – "Promoted Post."
This feature helped you create an ad campaign directly from your page without going to Facebook's ads platform. "Promote Post" was later changed to "Boost Post." In a sense, by simply boosting posts, you're not leveraging the full power of Facebook's advertising system.
The Boosted Posts feature lets you boost your posts so that they show up in more people's feeds and get more engagement. But what does that mean? Is it more sales? Leads? Customized ads or links?
The answer is: it depends on what you're trying to do with your Facebook/Instagram post. The Boosted Posts feature is only optimized for engagement—it'll get you likes, comments, and shares, but if you're looking for more clicks or better conversion rates (like sales), Boosted Posts isn't going to help you out.
Facebook/Instagram ads are an important part of your marketing strategy. To be successful, you need to know what you're doing and how Facebook works. But what if you want to know exactly how your ad is performing?
Is it working? Is it the right message for this audience? Is it reaching the right people?
Facebook does an excellent job of encouraging small businesses to adopt "Boosting" even if they have never advertised before. From their point of view, they want to make more money from businesses that would not have been advertised otherwise.
Facebook advertising 101 teaches you how to boost posts, which makes advertising affordable and simple enough to reduce a lot of the anxiety associated with beginning to run some ads. After a given amount of time, if your digital plan already includes boosts in part, it's time to fully commit to Facebook advertisements.
And Meta Business Suits offers around 20 types of ads – campaign objectives, from web traffic, and collection of leads to conversions and video views. Each of those objectives will change to whom Facebook shows your ads.
Facebook ads are a great way for small businesses to get their brand out there.
If you really want your ads to pop out of the fridge, make target audiences first!
Target marketing is a term used in marketing to convince you to purchase a product from that business. It describes the process of focusing on potential customers for your business 🙂 If you're still creating messages that apply to everyone and distributing them to a large, unsegmented audience, you're missing out on the most effective and perfect marketing tool the world has ever seen.
Target paid marketing demands 3 different process strategies that are essential if you're working on segmented marketing.
1. Invest in Brand Awareness Advertising
Awareness is the first step in locating customers who are interested in your business. (through boost). No one can show interest in your business before they know it exists.
Although you can make educated guesses about who you believe will want your brand, doing so is very useless.
And a lot of the time, your guesses will be off.
A better approach is to invest time and money in brand awareness advertising initiatives.
You may leave awareness campaigns with a solid and trustworthy source for your target audiences if you invest a reasonable amount of time and money in them.
2. Install the Facebook Pixel on your website
Facebook will be able to track the traffic to your website and track visitors who have interacted with it.
Create Meta Business Suits. You must create one in order to build custom audiences, so you might as well do it now rather than waiting until you are asked to.
It's really easy to create a Facebook custom audience in the Meta Business Suits
3. Start targeting Facebook ad audiences to make money
One of the most effective—and also one of the most expensive—methods for generating Facebook leads for your company is through Facebook/Instagram ad targeting.
We have three main types of Facebook audiences in Facebook advertising.
For the best return on investment, you should target the three categories of Facebook ad audiences listed below:

Why do you get adverts that are so precisely targeted that they seem to have read your mind?
There are alternative explanations, of course, but one of the most accurate is the answer – THE CUSTOM AND LOOKALIKE AUDIENCES.
A Custom Audience is precisely what it sounds like – A segmented audience that can be customized for ad targeting.
Because the people in these audiences are already familiar with your brand and products, custom audiences have warm, occasionally even hot traffic. What position in your funnel does a warm-to-hot audience occupy? Of course, where high-value conversions take place, is at the bottom.
Custom Audiences are one of the most precisely targeted marketing strategies, which is why eCommerce businesses that want to keep their brand in front of interested customers are using them more and more frequently.
Whatever Custom Audiences you choose to focus on, all Custom Audiences aim to reach people who have in some way already seen or connected with your brand.
If someone has already visited your website to look at your products, you might already be in the running for their ultimate buy choice.
Your potential of obtaining high-value conversions from more individuals increases when you target these populations, which is great for your return on investment (ROI).
You should target the Facebook audiences listed below for a high return on investment (ROI).
People who are interested in your product or service
People who have bought your product or service in the past
All website visitors
Your competitor audiences
People who visited specific webpages
Visitors by time spent
The Power of Lookalike Audiences
A successful marketing strategy requires a steady stream of new customers to find your company. It's a fantastic idea to use Lookalike Audiences for that.
Here's how it operates in the real world offline:
I think about Custom and Lookalike Audiences in the following way.
You make sales in your shop for a select group of friends who adore the cosmetics you offer. After the second gathering, your friends have already purchased what they require, but they continue to hang out with like-minded people who are unaware of you or your company but they are also interested in your product since a trusted friend told them about it.
Next year, not only your friends but also your friends' friends, a similar audience, the so-called Lookalike Audience, will necessarily come to the autumn presales.
Although it may be tempting to try to reach as many individuals as you can when developing a Lookalike Audience, keep in mind that more focused, specialty groups, can produce the best results. Facebook suggests staying with groups of 1,000–50,000 members.
You can set up a Lookalike Audience size that ranges from 1% to 10%, of which 1% includes the 1% only of those people who most closely match your base audience.
Think of a Lookalike Audience like you're trying to find your ideal customer – You don't have to figure out why people like your product or service anymore as long as you know who already likes it.
I recommend Lookalike Audience frequently after creating at least a few good quality Custom Audiences campaigns. Especially if your brand developed a reliable customer base already.
But in the end, you will definitely need more interested people to find out and buy from you.
To create a Lookalike, your Custom Audience needs to have at least 100 people that bought your products already or engaged with your business or brand in some other way.
Ready to learn more? Schedule your FREE consultation now!